MHCID Capstone Project: Kaiser Permanente- Southern CA Imaging & Strategy Department
Tools: Figma, Adobe Illustrator, Adobe XD, Adobe Photoshop
Team: 5 members total
My Role: Project Manager, Designer, & Supporting Researcher
Over 30,000,000 people are admitted to the hospital each year in the United States alone. Ensuring that the proper hospital equipment is safe to use and in the right place at the right time is critical. We partnered with Kaiser Permanente's Southern California Medical Imaging Technology and Informatics department to help create a more efficient inventory management tool for hospital equipment across the entire Southern California region.
Problem:
The internal website is fragmented and outdated, requiring several steps to complete simple tasks.
Form procedures have not been put in place, resulting in the input of incorrect information and a convoluted inventory system.
Employees are not notified when an action is required to be taken on their end. This results in prolonged time for procedures to be completed.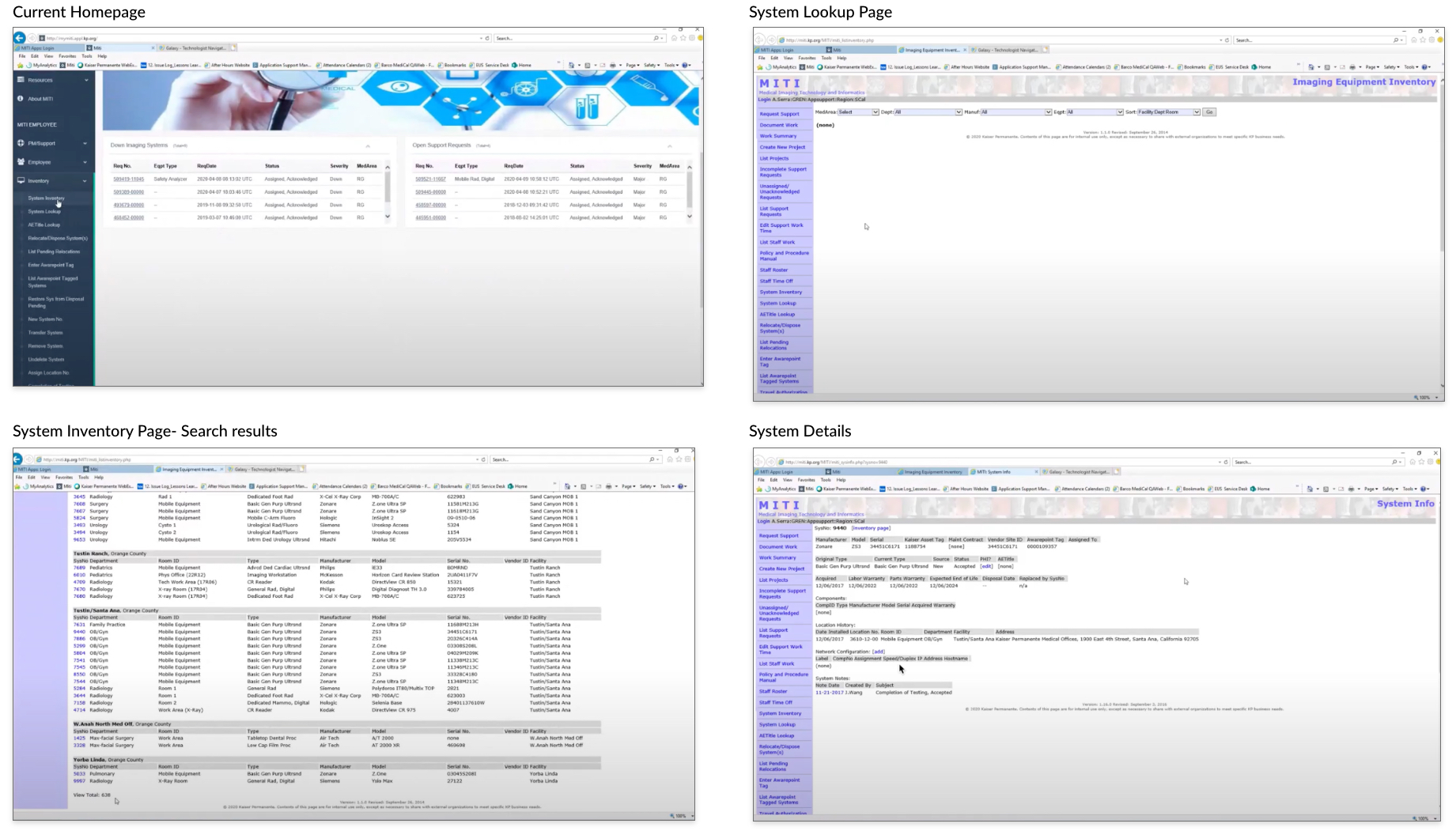 Solution:
Streamline the website architecture so it is easier and more intuitive for users to complete their task.
Redesign the process of forms with error-prevention in mind. Offer a "push-back feature" that would immediately notify a person upstream of any mistakes that needed to be corrected.
Alert employees through their worklist page that a task needs to be completed.
Process
We followed the Design Thinking methodogy and started the process with research to gain an understanding of our user's needs. Through academic research, stakeholder, and user interviews, we were able to define our problems and opportunities. As we moved into our ideating phase, we explored numerous design solutions, and then prototyped and tested our solutions through each step. The iterative process allowed us to test, prototype, and refine our prototype.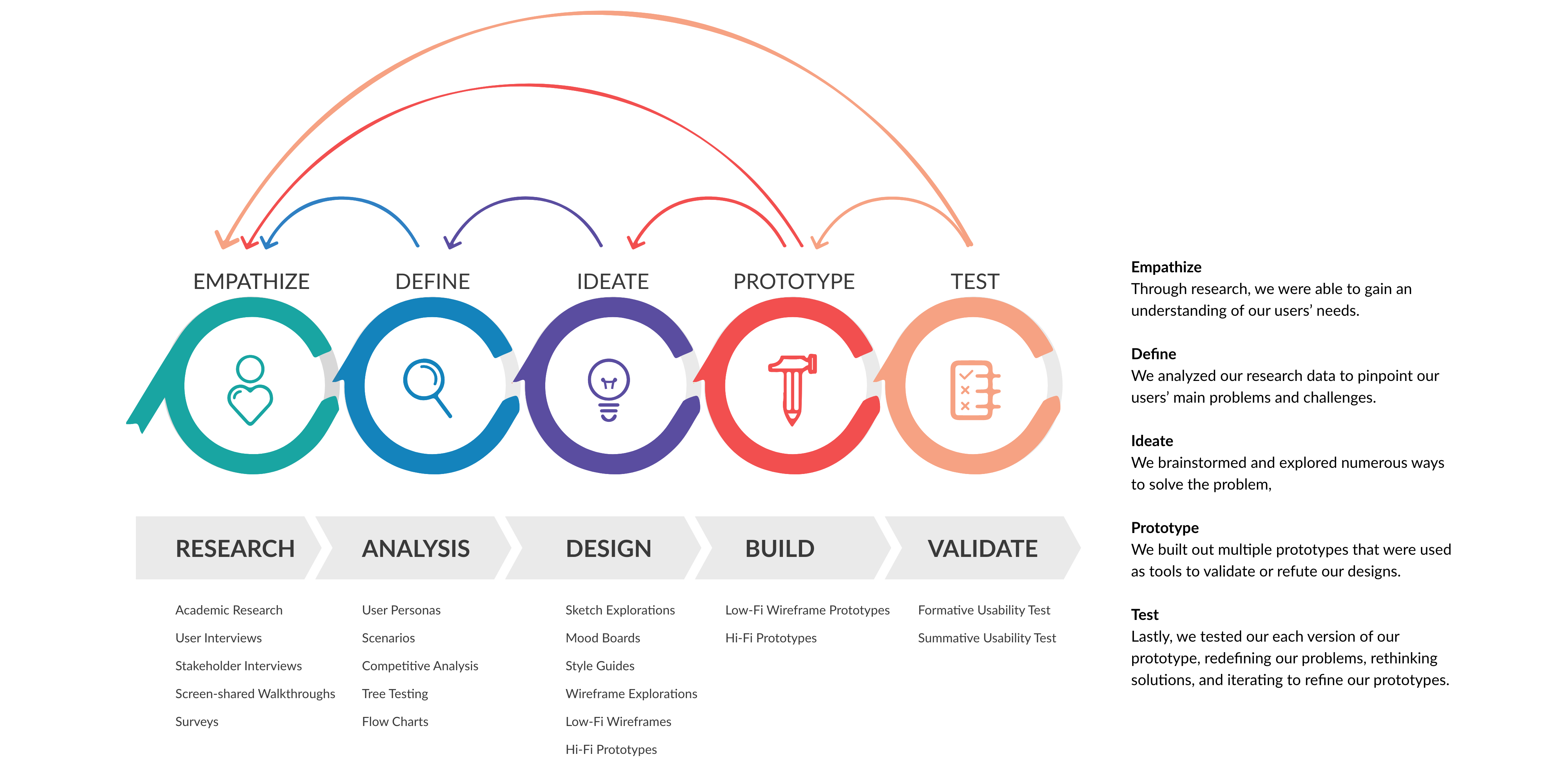 Research:
Academic Research: The UCI team gathered relevant scholarly research articles on a variety of topics on the industry standard for the digital implementation of workflow tools in the medical field and data management in medical systems. This domain knowledge would help inform our game plan and strategy in the early stages of the project.
Stakeholder Interviews: Six stakeholder interviews were conducted, each approximately an hour in length. These sessions helped the team develop an understanding of the target user groups.
Tree Testing: Using the research platform, Optimal Sort, the research team drafted a tree-test study and it was completed by eighteen Kaiser employees. The purpose of this study was to validate the client team's optimal depiction of the site's information architecture.
Opportunity Analysis: Based on the information that was gathered in previous research, the team was able to identify many different points of actionable change. In order to pinpoint critical and/or priority items, the team examined "competitors" that are implementing the features and functions that the myMITI website needs to consider in the future.
Design
With research and analysis as our foundation, we were finally ready to begin the highly iterative design process. We explored as many different solutions as possible in a short amount of time.